Vanuatu is appealing for aid after supercyclone Pam devastated vast swathes of Vanuatu and surrounding islands. There are fears that entire communities have been wiped out by the storm's 124 m/hr winds and heavy rainfall.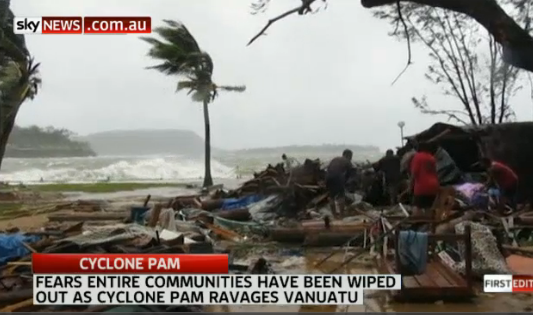 Vanuatu appeals for aid with fears #CyclonePam may have wiped out entire communities. http://t.co/Bnr2Cc68OD #TCPam pic.twitter.com/5oeEt9x2ys
— Sky News Australia (@SkyNewsAust) March 14, 2015
According to a Sky news report:
Vanuatu's president has made an emotional appeal for international help after his island nation was hit by a category five cyclone, wreaking devastation in what is feared to be one of the region's worst weather disasters.
Though the full extent of the damage is unknown, the UN had unconfirmed reports of 44 people killed in just one province while aid agencies described scenes of destroyed homes, uprooted trees and blocked roads as a result of Super Cyclone Pam.
Media including the Wall Street Journal cited the country's Disaster Management Office in saying six people were killed and a state of emergency declared over the tropical cyclone, which brought gusts of up to 320km/h.
"Significant weather event for New Zealand"
The storm is projected to pass to the SE of New Zealand and the country is bracing for destructive weather.
The Northland news site 'The Northern Advocate' said the worst of the weather is due overnight Sunday and into Monday morning.
It is due to hit New Zealand about 9pm. Wind gusts of up to 130km/h are expected in Auckland tonight and into tomorrow. The eastern seaboard from Northland to Hawkes Bay is at risk and Gisborne and the Bay of Plenty are tipped to be worst hit.
Civil Defence has warned residents in the regions to prepare for what is likely to be a "significant" weather event.
They say power cuts and landslides are possible and residents should avoiding non-essential driving…
Severe weather warnings have been issued for Northland, as a period of heavy rain is expected from midday Sunday until Monday morning. In the 18 hours from midday Sunday until 6am Monday, expect 80 to 100mm to accumulate. Peak intensities 20mm/hr. Strong wind warning has also been issued as southeasterlies are expected to rise to gale this afternoon, then to severe gale gusting 120km/h this evening, before tending southerly and weakening Monday morning.
The weather will be worse the further east you are, so areas such as Dargaville and Hokianga the weather will be less severe.
Huge seas are expected through until Tuesday. Swells are expected to reach 8m in height. Postpone all water based activities as sea conditions will be very dangerous, including strong currents. More here
Webcams
North Island webcams may be found here http://earthspace101.com/cyclone-pam/new-zealand-north-island-cams/